Program Staff
AMBIKA MATHUR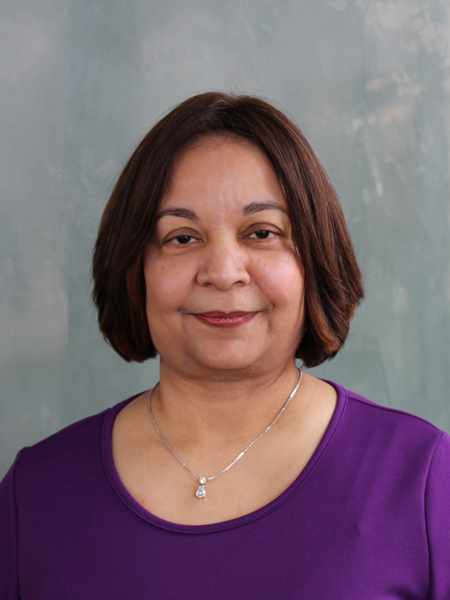 Ambika Mathur, Ph.D., is Dean of the Graduate School and Associate Provost for Scientific Training Workforce Development and Diversity at Wayne State University (WSU). Ambika is deeply committed to the advancement of all aspects of training for high school, undergraduate, medical, master's, doctoral and postdoctoral trainees.
She has worked closely with the leadership at national organizations and with the deans of WSU's 12 schools and colleges towards achieving these goals at WSU. She is nationally recognized for establishing an ambitious project that resulted in collection and reporting of career outcomes of 90% of WSU's 3,000 doctoral alumni graduating in the last 15 years. Importantly, in partnership with all deans and the provost and president, she established a series of innovative strategies that resulted in over 25% increase in graduate enrollment at WSU. This included development of a number of evidence-based innovative graduate programs, some in collaboration with our area employers, as well as a scholarship program to enhance recruitment, retention and completion rates of master's programs. She has established programs to enhance professional and career development opportunities for doctoral students, including the mandatory use of Individual Development Plans. She is a tireless advocate of holistic admission on campus and contributed to the national discussion to promote diversity and inclusion among trainees. 
These efforts have helped WSU in receiving one of only ten Broadening Experience in Scientific Training grant (BEST, a 5 year $1.8 million grant) awarded by the National Institutes of Health (NIH) for which Ambika serves as PI. She also serves as a PI of the $21 million NIH-funded ReBUILDetroit program in which she leads WSU in working with Detroit colleges to build a pipeline of undergraduate students from diverse backgrounds for careers in research. She is the director of the Wayne Med-Direct program which emphasizes mentoring and research training to select undergraduate students interested in health disparities, leading to M.D. or combined M.D./Ph.D. degree programs at WSU. Ambika was the first permanent director of the combined M.D./Ph.D. combined degree program, and the founding director of the Office of Postdoctoral affairs at Wayne State University. Ambika has developed these programs in close collaboration and partnership with faculty from across all schools and colleges at WSU, working with over 900 graduate faculty for graduate program advancement, and over 300 faculty in developing the NIH-funded BEST and BUILD training programs.   In 2017, the Wayne State Graduate School, under Ambika's leadership, was one of 15 universities across the nation to receive an $80,000 grant from the Council of Graduate Schools for the Understanding PhD Career Pathways for Program Improvement project.  The award will help track career trajectories of current PhD students and alumunus to provide a more robust understanding of PhD career aspirations and pathways.  The National Science Foundation and the Andrew W. Mellon Foundation provided grants to fund the project which involves surveying students and alumnus in both the humanities and STEM disciplines.
A cancer immunologist by training and professor in the Department of Pediatrics, Ambika has been funded by the National Institutes of Health and several other agencies for research in cancer immunology, the immunological basis for complementary and alternative medicine interventions in pediatric populations, and has over 120 research publications. Altogether she has been awarded over $30 million in grant funding for cancer research (as faculty) and for research training (as Dean of the Graduate School). Ambika has also published a medical mystery suspense thriller as well as a series of books for children.
In 2017, Ambika was named the Wayne Women LEAD Woman of Distinction. This award is given annually to a Wayne State faculty member or administrator who has demonstrated a commitment to women and/or issues of diversity, equity and inclusion through their leadership and involvement in the campus community and beyond.
MARY WOOD
As program director, Mary identifies potential external funding opportunities from public and private sources for workforce development and diversity.  As part of a team, she helps prepare grant submissions to key federal agencies including the National Institutes of Health (NIH) and National Science Foundation (NSF). In this role, she also works with faculty, key university executives and department chairs to identify opportunities, strengths and potential focus areas for integrative training initiatives.  Prior to her role as STWD program director, Mary worked as confidential assistant to the Wayne State Provost and special projects manager for the Executive Vice President and Chief of Staff.  She also has experience as a Congressional staffer working in both the U.S. House of Representatives and U.S. Senate in Washington, D.C.